Searching for a sense of completeness? In the Allegheny National Forest Region, it's easy to fall in love with the deep, endless woodlands and vast, scenic overlooks. The simple and natural surroundings have the tendency to leave visitors breathless, thrilled and amazed. Explore by car or trek into the wilderness using the myriad of area trails. Winding forest roads take travelers from the small Victorian lumber towns to the historic and eventful Route 6 to the trailheads that take hikers into ancient groves of hemlock.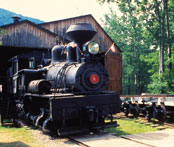 The Pennsylvania Lumber Museum tells the story of lumber heritage through exhibits and demonstrations.
The history of this land is deeply tied to the early American struggle to stretch our boundaries and find success. Lumber companies thrived here. Railroads supplied coal and timber to further the development of East Coast cities. Settlers built homes here, haunted with ambitions to go westward. Stockades, stagecoach stops and supply stations were the lifeblood of America as it emerged as a powerhouse. In this region, both man and nature flex their strengths in harmony. Every rugged and uniquely gorgeous county in the Allegheny National Forest Region offers something memorable, mysterious and great to explore.
Kinzua Bridge and Kinzua Viaduct are exemplary structures that embrace the environmental resources in the Allegheny National Forest . Further east, the Pennsylvania Grand Canyon stretches for miles. The best stargazing can be had at Cherry Springs State Park in Potter County. At the Pennsylvania Lumber Museum , visitors can experience the lumberjack lifestyle of yore. Every summer, present-day woodsmen compete in old-fashioned games that test woodcutting strength and skill. Punxsutawney makes history every year on February 2nd when the famous Phil predicts the coming of spring on Groundhog Day.
Year round, tourists venture to the forest for hiking, mountain biking, paddling adventures and other outdoor activities such as hunting, fishing and backpacking. Come see for yourself. Get to the root of the Allegheny National Forest Region!